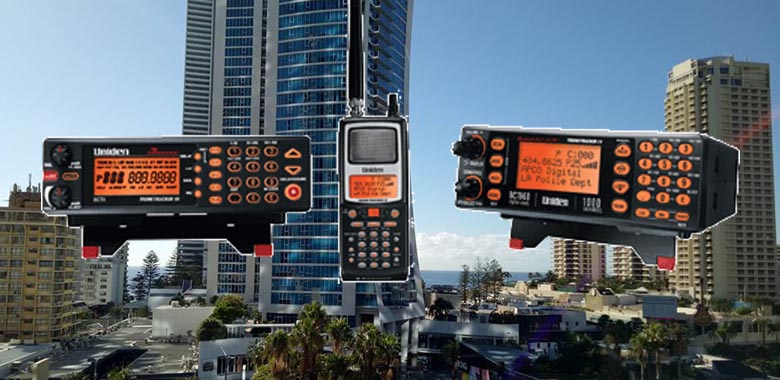 The Gold Coast is home to over 500,000 residents – and to keep the surrounding cities in constant communications, vast radio networks have been created.
The radio frequencies listed below can be programmed into either Analogue or Digital Scanners.
Some frequencies listed will only work on digital scanners, and some even go as far as trunking channels and encrypting communications.
It is illegal to attempt to decipher, decrypt or break into encrypted communications. DO NOT ATTEMPT.
The following information has been obtained from a number of publicly available sources and is intended for the purpose of recreational listening only.
You must not act on any information received whilst listening to a radio scanner. Example – pass on telephone number or go to scene of incident.
Gold Coast Ambulance Radio Scanning Frequencies
413.2000 – Southport
413.3875 – Burleigh Heads
415.4125 – Surfers Paradise
413.0875 – Broadbeach
Gold Coast City Life Guards Radio Scanning Frequencies
489.225 – SLSC—————————Q1
163.6250 – Goldcoast Council Lifeguards – Burleigh Heads
Gold Coast Aviation and Aircraft Radio Scanning Frequencies
112.300 – Coolangatta Navigation – Coolangatta
118.100 – Archerfield Tower – Archerfield
118.300 – Amberley Tower – Amberley
118.600 – Brisbane ACD – Brisbane Airport
118.700 – Coolangatta Tower – Coolangatta
119.000 – Southport M.B.Z – Southport
119.100 – Qld Police / Careflight – Not used a lot.
119.500 – Brisbane Radar – Springbrook
119.800 – Brisbane Centre
119.900 – Archerfield Ground – Archerfield
120.500 – Brisbane Tower – Brisbane Airport
120.900 – Archerfield ATIS – Archerfield
120.900 – Qld Air Terminal Svcs – Shell
121.500 – Emergency Freq. – World Wide
121.650 – Archerfield Avfuels – BP – Archerfield
121.700 – Brisbane Ground – Brisbane Airport
121.800 – Coolangatta Ground – Coolangatta Airport
121.925 – Amberley Ground SMCV – Amberley
123.000 – Brisbane Control (Nth) – Mt. Glorious & Nth Stradbroke Island
123.300 – RAAF Search & Rescue – Aust Wide
123.450 – "Numbers" Air to Air – Aust Wide
123.500 – Coolangatta Approach – Springbrook & Coolangatta Airport
123.600 – Archerfield Tower
124.100 – Brisbane Centre
124.350 – Brisbane Departures – Brisbane Airport
124.700 – Brisbane Approach – Mt Coot-tha & Brisbane Airport
125.000 – Brisbane Centre – Mt. Glorious & Nth Stradbroke Island
125.500 – Brisbane ATIS
125.600 – Brisbane Departure (SW) – Mt Coot-tha & Brisbane Airport
125.700 – Brisbane Centre – Mt. Glorious
126.200 – Amberley Approach – Amberley
126.400 – Hawker Pacific
126.400 – Jetcare Pty Ltd
127.200 – Brisbane Control (Sth) – Springbrook
128.150 – Flightwatch
128.900 – A B C
128.950 – Archerfield Refuelling – Shell – Archerfield
129.250 – National Jet Systems
129.350 – Amberley Ground SMC – Amberley
129.500 – Qantas Domestic – Aust Wide
129.750 – Flight West Airlines
129.900 – Gold Coast Flight Facilities – Coolangatta Airport (Fuel Truck)
129.900 – Adagold Aviation
130.250 – Sunstate Airlines
130.400 – Brisbane Control (Sth) – Mt. Glorious & Nth Stradbroke Island & Springbrook
131.000 – Air Fire & Rescue – Coolangatta & Brisbane Airports
131.100 – Thai Airways
131.150 – Virgin Blue
131.500 – Virgin Blue
131.550 – S I T A Telecommunications
131.600 – Qld Police – Qld Wide
131.725 – S I T A Telecommunications
131.800 – Japan Airlines
131.900 – QANTAS
132.550 – Air support Australia
132.650 – Qantas International – Coolangatta & Brisbane Airports
134.500 – Coolangatta A.T.I.S. – Coolangatta
134.600 – Amberley Clearance Delivery – Amberley
234.200 – Amberley Traffic – Amberley
259.800 – Amberley Ground SMCV – Amberley 394.400
264.600 – Amberley Tower – Amberley 398.350
316.200 – Amberley ATIS – Amberley
335.800 – Amberley Approach – Amberley
361.600 – R A A F – Air Movements 397.525
395.025 – Amberley Ground SMCA – Amberley (AM & FM)
392.450 – R A A F – 38 Sqn
393.700 – R A A F – 1 Sqn
395.350 – R A A F – 6 Sqn
Gold Coast Fire Brigade and Rescue Radio Scanning Frequencies
466.975 – Southport
465.750 – Coolangatta & Brisbane Airport
Gold Coast Hotel and Resort Radio Scanning Frequencies
450.325 – Sheraton Mirage——————— Main Beach
450.375 – Palazzo Versace——————— Main Beach
450.450 – Ocean Plaza Resort——————Coolangatta
412.925 – Crown Plaza————————-Surfers Paradise
463.050 – Couran Cove———————— Sth Stradbroke Is
463.475 – Hope Island Resort——————-Hope Island
463.675 – Couran Cove————————-Sth Stradbroke Is
463.975 – Phoenician Health & Spa Resort——Broadbeach
464.025 – Hope Island Resort Golf Club——–Hope Island
466.900 – Water Mark Hotel——————-Surfers Paradise
469.575 – Surfers Manhattan——————- Surfers Paradise
469.650 – Couran Cove————————Sth Stradbroke Is
469.950 – Hyatt Regency Sanctuary Cove——Hope Island
469.950 – Points North Apartments———— Coolangatta
471.375 – Royal Pines Resort – Marina———Ashmore
471.100 – Marriott Resort———————-Surfers Paradise
471.225 – Sanctuary Cove———————Hope Island
471.350 – Gold Coast International————Surfers Paradise
472.400 – Sanctuary Cove———————Hope Island
473.000 – Sanctuary Cove———————Hope Island
473.175 – Hotel Conrad & Jupiters Casino—–Broadbeach
473.475 – Hotel Conrad & Jupiters Casino—–Broadbeach
473.525 – Hotel Conrad & Jupiters Casino—–Broadbeach
473.775 – Hotel Conrad & Jupiters Casino—–Broadbeach
474.075 – Holiday Inn (ANA Hotel)———- Surfers Paradise
474.200 – Sanctuary Cove———————Hope Island
474.350 – Royal Pines Resort – Golf———–Ashmore
474.350 – Hyatt Regency Sanctuary Cove—–Hope Island
474.650 – Royal Pines Resort – Security——-Ashmore
474.700 – Novotel Hotel Beachcomber——- Surfers Paradise
474.875 – Calypso Plaza & Resort————Coolangatta
474.950 – Sea World Nara Resort———— Main Beach
475.175 – Royal Pines Resort – Hotel Security-Ashmore
484.825 – Greenmount Resort—————–Coolangatta
484.875 – Sun City Resort———————Surfers Paradise
485.125 – Radisson Resort & Palm Meadows-Carrara
487.200 – Palm Meadows———————Carrara
487.200 – Beach House Seaside Resort——- Coolangatta
487.300 – Sheraton Mirage——————–Main Beach
487.600 – Sheraton Mirage——————–Main Beach
490.450 – Legends Hotel———————-Surfers Paradise
493.700 – Sotel——————————-Broadbeach
494.875 – Sheraton Mirage——————–Main Beach
495.100 – Tiki Village————————-Surfers Paradise
506.800 – Palazzo Versace——————- Main Beach
509.775 – All Seasons————————Mermaid Waters
Gold Coast Taxi Radio Scanning Frequencies
486.350 – Tweed Heads/Coolangatta Taxi-Coolangatta
163.775 – Regent Taxis (mostly data)—–Coolangatta
163.925 – Regent Taxis (mostly data)—–Burleigh Heads
161.025 – Regent Taxis (mostly data)—- Coolangatta
162.1875- Regent Taxis (mostly data)—-Burleigh Heads
162.3125- Regent Taxis (mostly data)—-Beechmont
162.5875-Regent Taxis (mostly data)—–Coolangatta
163.525 – Regent Taxis (mostly data)—–Burleigh Heads
Gold Coast SES Radio Scanning Frequencies
467.425 – State Emergency Service——-Beechmont
467.525 – State Emergency Service——-Mt Tamborine
467.625 – State Emergency Service—— Surfers Paradise
416.5125 – NSW SES———————–Tweed Heads
Gold Coast City Council Frequencies
163.0625 – Gold Coast City Council——-Nerang
163.4375 – Gold Coast City Council——-Nerang
163.625 – Gold Coast City Council——-Burleigh Heads (Life Guards)
163.750 – Gold Coast City Council——–Nerang
164.1125 – Gold Coast City Council——-Nerang
164.400 – Gold Coast City Council——-Burleigh Heads
164.450 – Gold Coast City Council——–Nerang
164.775 – Gold Coast City Council——-Burleigh Heads
173.350 – Gold Coast City Council——-Burleigh Heads
173.5125 – Gold Coast City Council——-Merrimac
Gold Coast Surfside Bus Radio Scanning Frequencies
461.150 – CoachTrans——————- Mt Tamborine
463.300 – Surfside Bus——————-Surfers Paradise
465.625 – Surfside Bus——————- Terranora
Gold Coast Golf Clubs Radio Scanning Frequencies
485.075 – Lakelands Golf Club———–Merrimac
474.900 – Lakelands Golf Club———–Merrimac
471.550 – Paradise Spring Golf Club——Merrimac
469.900 – Southport Golf Club————Southport
450.475 – Carrara Golf Course———–Carrara
450.425 – Surfers Paradise Golf Club—–Clear Island Waters
450.425 – Hope Island Golf Club———Hope Island
Gold Coast QLD Rail Radio Scanning Frequencies
418.150 – Qld Rail———————– Nerang
418.125 – Qld Rail————————Pimpama
419.375 – Qld Rail————————Nerang
Gold Coast Convention Centre Radio Scanning Frequencies
465.250 – Gold Coast Convention Cnt — Broadbeach
464.950 – Gold Coast Convention Cnt — Broadbeach
463.675 – Gold Coast Convention Centre — Broadbeach
Gold Coast Universities and TAFE Radio Scanning Frequencies
475.000 – Griffith University————– Southport
471.150 – Griffith University—————Southport
469.675 – TAFE————————– Gold Coast
464.125 – Bond University—————-Robina
464.425 – Bond University—————-Robina
Gold Coast Turf Club Radio Scanning Frequencies
475.100 – Gold Coast Turf Club———-Bundall
484.925 – Gold Coast Turf Club———-Bundall
Gold Coast Theme Parks Radio Scanning Frequencies
450.050 – David Fleays Wildlife Park / Burleigh Heads
484.800 – Dreamworld / Coomera
484.925 – Dreamworld / Coomera
485.075 – Dreamworld / Coomera
485.125 – Dreamworld / Coomera
UHF CB- Wet & Wild / Oxenford
474.925 – Currumbin Sanctuary / Currumbin
493.700 – Currumbin Sanctuary / Currumbin
494.950 – Currumbin Sanctuary / Currumbin
411.525 – Sea World / Main Beach
411.900 – Sea World / Main Beach
411.975 – Sea World / Main Beach
412.150 – Sea World / Main Beach
412.275 – Sea World / Main Beach
412.350 – Sea World / Main Beach
469.500 – Movie World / Oxenford
469.550 – Movie World / Oxenford
469.725 – Movie World / Oxenford
469.825 – Movie World / Oxenford
471.275 – Movie World / Oxenford
471.350 – Movie World / Oxenford
471.375 – Movie World / Oxenford
471.425 – Movie World / Oxenford
471.575 – Movie World / Oxenford
474.850 – Movie World / Oxenford
Gold Coast Fast Food Chain Radio Scanning Frequencies
154.600 / 40.410 – KFC——————Aust Wide
154.600 / 40.410 – Hungry Jacks——–Aust Wide
154.600 / 40.410 – Red Rooster———Aust Wide
154.600 / 40.410 – Mc Donalds———Aust Wide
Gold Coast Shopping Centres Radio Scanning Frequencies
412.900 – Robina Shopping Centre——–Robina
413.325 – Robina Shopping Centre——–Robina
450.200 – Pines Shopping Centre———-Elanora
450.350 – Big W Shopping—————-Burleigh Heads
464.125 – Showcase Shopping Centre—–Coolangatta
464.850 – Runaway Shopping Village——Runaway Bay
469.550 – Southport Park Shopping——-Southport
469.750 – Marina Mirage——————Main Beach
469.800 – Q Super Store——————Mermaid Waters
471.275 – Burleigh Town Shopping——–Burleigh Heads
472.575 – Paradise Centre—————- Surfers Paradise
484.825 – Raptis Plaza——————– Surfers Paradise
485.375 – Pacific Fair Shopping Centre—-Broadbeach
486.825 – Myer Stores——————–Broadbeach
487.425 – Pacific Fair Shopping Centre—-Broadbeach
487.600 – Tweed Shopping Mall———–Tweed Heads
489.700 – Tweed Mall———————Tweed Heads
494.300 – The Oasis on Broadbeach——-Broadbeach
494.900 – The Oasis on Broadbeach——-Broadbeach
Gold Coast Telstra Radio Scanning Frequencies
499.99375 – Telstra Springbrook
500.0000 – Telstra Parkwood
500.0500 – Telstra Springbrook/Mt Tamborine
500.0625 – Telstra Currumbin
500.0875 – Telstra Parkwood
500.1125 – Telstra Beechmont
500.1250 – Telstra Beaudesert
500.1250 – Telstra Mt Tamborine
500.1750 – Telstra Parkwood
500.2000 – Telstra Mt Tamborine
500.2125 – Telstra Beechmont
500.2375 – Telstra Terranora
500.2500 – Telstra Mt Tamborine
500.2625 – Telstra Beechmont
500.2750 – Telstra Mt Tamborine
500.2875 – Telstra Parkwood
500.4250 – Telstra Parkwood
500.4625 – Telstra Currumbin/Beechmont
500.4750 – Telstra Mt Tamborine
500.6125 – Telstra Parkwood
500.6250 – Telstra Parklands/Currumbin
500.7375 – Telstra Mt Tamborine
Gold Coast Marine Radio Scanning Frequencies
154.575 – Volunteer Marine Rescue – Southport
163.625 – Gold Coast City Lifeguards
485.000 – Surf Lifesaving Qld/NSW
487.950 – Surf Communications – Surf Lifesaving Qld – Tweed Heads Repeater
488.650 – Surf Communications – Surf Lifesaving Qld -Miami Repeater
488.775 – Surf Communications – Surf Lifesaving Qld -Burleigh Heads Repeater
489.225 – Surf Communications – Surf Lifesaving Qld -Springbook / Miami Repeater
463.5375 – Australian Volunteer Coast Guard (Channel 16 Wongawallan Repeater)
463.625 – Australian Volunteer Coast Guard (Channel 27.91 Wongawallan Repeater)
466.100 – Australian Volunteer Coast Guard (Channel 73 Wongawallan Repeater)
160.775 – Water Police (Channel 63 Brisbane)
490.975 – Qld Department Transport (Water Patrol – Mt Tamborine Repeater)
161.750 – Telstra Seaphone (Channel 23)
161.900 – Telstra Seaphone (Channel 26)
471.750 – Gold Coast Marine Coomera
474.900 – Gold Coast Marine Coomera
470.1875 – VMR  Currumbin (Private) Shared Channel
27.6800 – Department of Transport Southport

Gold Coast 27Mhz Marine Radio Scanning Frequencies
27.680kHz – Channel 68 – Commercial & Charter
27.720kHz – Channel 72 – Professional Fishermen.
27.820kHz – Channel 82 – Professional Fishermen.
27.860kHz – Channel 86 – Calling & Distress.
27.880kHz – Channel 88 – Calling & Distress.
27.900kHz – Channel 90 – Ship to Shore.
27.910kHz – Channel 91 – Ship to Shore
27.940kHz – Channel 94 – Club Event.
27.960kHz – Channel 96 – Inter ship.
27.980kHz – Channel 98
Gold Coast Random Radio Scanning Frequencies
464.825 – Qld Corrections—————-Numinbah Valley
78.2375 – J.J. Richards——————-Springbrook
470.525 – RACQ (some voice)———– Mt Tamborine
470.775 – Wreckers Hotline————–Springbrook
471.300 – Dracula's Theatre Restaurant— Broadbeach
471.575 – The Drink Nightclub————Surfers Paradise
472.150 – Berlin Lounge Bar————–Surfers Paradise
474.900 – Gold Coast City Marina——–Coomera
485.750 – Gold Coast Bakeries———–Springbrook
466.075 – Country Energy —————-Terranora
472.950 – Energex Ltd ——————–Springbrook
490.250 – Tweed Council —————–Kingscliff
70.4875 – Beaudesert Council ————Beaudesert ….
70.6625 – Beaudesert Council ————Beaudesert ….
70.8875 – Beaudesert Council ————Beaudesert ….
71.2375 – Beaudesert Council ————-Beaudesert
163.9625 – Main Roads ——————–Mt Tamborine
70.3125 – Country Energy —————–Terranora
462.450 – Kone Elevators —————– Surfers Paradise
471.637 – Channel 9 Station Back Feed 1
463.000 – Channel 9 Station Back Feed 2
Gold Coast Postcode Radio Scanner Frequency Allocations
FREQUENCY,  LICENSEE,  STATE,  POSTCODE
40.4100 Collins Restaurants Management Pty Ltd QLD 4220
40.4100 Collins Restaurants Management Pty Ltd QLD 4216
40.4100 Collins Restaurants Management Pty Ltd QLD 4217
40.4100 Collins Restaurants Management Pty Ltd QLD 4221
40.4100 Competitive Foods Ltd QLD 4214
40.4100 Collins Restaurants Management Pty Ltd QLD 4215
40.6800 K Mart Australia Ltd QLD 4215
40.6800 Gold Coast Hospitals Board QLD 4215
40.7500 Daikyo International Pty Ltd QLD 4217
40.7500 Goodearth Hotels Australia (Gold Coast) Pty Ltd QLD 4217
78.6850 Commissioner Queensland Fire Service QLD 4223
78.6850 Commissioner Queensland Fire Service QLD 4228
78.6850 Commissioner Queensland Fire Service QLD 4223
78.6850 Commissioner Queensland Fire Service QLD 4223
87.6000 Robert & Carolyn Carr QLD 4225
118.7000 Airservices Australia QLD 4225
119.1000 Volunteer Marine Rescue Point Danger Assoc Inc QLD 4225
119.1000 Commissioner of Police QLD 4217
119.1000 Commissioner of Police QLD 4218
121.8000 Airservices Australia QLD 4225
123.5000 Airservices Australia QLD 4225
131.5500 Societe Internationale de Telecommunication Aeronautiques QLD 4225
131.6000 Commissioner of Police QLD 4218
148.1625 Volunteer Marine Rescue Point Danger Assoc Inc QLD 4225
148.3375 ARH Leisure Services Pty Ltd QLD 4215
148.3375 ARH Leisure Services Pty Ltd QLD 4214
148.3375 The Domain Retirement Country Club P/L QLD 4214
148.3375 MID International Australia Pty Ltd QLD 4217
148.6125 Link Communications Corporation Pty Ltd QLD 4217
148.9625 Link Communications Corporation Pty Ltd QLD 4217
149.8375 Link Communications Corporation Pty Ltd QLD 4217
149.8875 Link Communications Corporation Pty Ltd QLD 4217
153.8000 Goodearth Hotels Australia (Gold Coast) Pty Ltd QLD 4217
154.5750 Volunteer Marine Rescue Southport Surfers Paradise Assoc Inc QLD 4217
154.6000 Competitive Foods Ltd QLD 4214
154.6000 Collins Restaurants Management Pty Ltd QLD 4221
154.6000 Collins Restaurants Management Pty Ltd QLD 4217
154.6000 Collins Restaurants Management Pty Ltd QLD 4215
154.6000 Collins Restaurants Management Pty Ltd QLD 4220
154.6000 Collins Restaurants Management Pty Ltd QLD 4216
156.1250 Queensland Dept of Transport QLD 4217
156.3750 Queensland Dept of Transport QLD 4217
156.3750 Volunteer Marine Rescue Currumbin Inc QLD 4223
156.5750 Queensland Dept of Transport QLD 4217
156.6750 Queensland Dept of Transport QLD 4217
156.6750 Volunteer Marine Rescue Currumbin Inc QLD 4223
156.8000 Volunteer Marine Rescue Currumbin Inc QLD 4223
156.8000 Queensland Dept of Transport QLD 4217
157.1000 Queensland Dept of Transport QLD 4217
157.1250 Queensland Dept of Transport QLD 4217
157.5875 Regent Taxis Ltd QLD 4220
158.9250 Regent Taxis Ltd QLD 4220
160.1750 Gold Coast City Council QLD 4220
160.7250 Queensland Dept of Transport QLD 4217
161.3000 P Mexted QLD 4227
161.7000 Queensland Dept of Transport QLD 4217
161.7250 Queensland Dept of Transport QLD 4217
162.1875 Regent Taxis Ltd QLD 4220
162.8875 Pirie Enterprises Pty Ltd QLD 4217
163.5250 Regent Taxis Ltd QLD 4220
164.7750 Gold Coast City Council QLD 4220
403.4750 Goodearth Hotels Australia (Gold Coast) Pty Ltd QLD 4217
403.7500 Commissioner Queensland Ambulance Service QLD 4215
404.1250 Queensland Fire and Rescue Service QLD 4215
404.9750 Regent Taxis Ltd QLD 4215
404.9750 Regent Taxis Ltd QLD 4220
406.3875 Telstra Corporation Ltd QLD 4214
406.6000 Telstra Corporation Ltd QLD 4214
406.8875 Telstra Corporation Ltd QLD 4214
407.1000 Telstra Corporation Ltd QLD 4214
407.3875 Telstra Corporation Ltd QLD 4214
407.6000 Telstra Corporation Ltd QLD 4214
407.8875 Telstra Corporation Ltd QLD 4214
408.1000 Telstra Corporation Ltd QLD 4214
408.3875 Telstra Corporation Ltd QLD 4214
408.6000 Telstra Corporation Ltd QLD 4214
411.5250 Warner World Australia Pty Ltd/Village Theme Park Management P/L QLD 4217
411.9000 Warner World Australia Pty Ltd/Village Theme Park Management P/L QLD 4217
411.9750 Warner World Australia Pty Ltd/Village Theme Park Management P/L QLD 4217
412.1500 Warner World Australia Pty Ltd/Village Theme Park Management P/L QLD 4217
412.2750 Warner World Australia Pty Ltd/Village Theme Park Management P/L QLD 4217
412.3500 Warner World Australia Pty Ltd/Village Theme Park Management P/L QLD 4217
412.9250 Goodearth Hotels Australia (Gold Coast) Pty Ltd QLD 4217
413.2000 Commissioner Queensland Ambulance Service QLD 4215
413.5750 Queensland Fire and Rescue Service QLD 4215
414.4250 Regent Taxis Ltd QLD 4215
414.4250 Regent Taxis Ltd QLD 4220
415.8375 Telstra Corporation Ltd QLD 4214
416.0500 Telstra Corporation Ltd QLD 4214
416.3375 Telstra Corporation Ltd QLD 4214
416.5500 Telstra Corporation Ltd QLD 4214
416.8375 Telstra Corporation Ltd QLD 4214
417.0500 Telstra Corporation Ltd QLD 4214
417.3375 Telstra Corporation Ltd QLD 4214
417.5500 Telstra Corporation Ltd QLD 4214
417.8375 Telstra Corporation Ltd QLD 4214
418.0500 Telstra Corporation Ltd QLD 4214
450.0500 Australian Hospital Care (Allamanda) Pty Ltd QLD 4215
450.2000 H S P Property Group Pty Ltd QLD 4221
450.3250 Jupiters Limited QLD 4218
450.3250 Mirage Resorts Management Pty Ltd QLD 4217
450.3250 Thakral Operations Pty Ltd QLD 4218
450.3750 Sandhurst Trustees Pty Ltd QLD 4217
450.3750 Jupiters Limited QLD 4218
450.4250 Hope Island Resort Golf Club Pty Ltd QLD 4216
450.4500 Queensland Dept of Transport QLD 4216
450.5000 Commissioner Queensland Ambulance Service QLD 4215
450.5000 Commissioner Queensland Ambulance Service QLD 4221
450.5250 Gold Coast City Council QLD 4221
450.6500 Regent Taxis Ltd QLD 4220
450.6500 Regent Taxis Ltd QLD 4215
452.3563 Gold Coast City Council QLD 4221
452.4000 Gold Coast City Council QLD 4220
452.9500 Kone Elevators Pty Ltd QLD 4217
453.5000 Queensland Television Ltd QLD 4217
453.7250 Baron Dinte QLD 4217
454.6250 Bond University Ltd QLD 4229
454.9250 Bond University Ltd QLD 4229
455.3500 Permanent Trustees Australia Ltd QLD 4216
456.2500 Aviation Rescue and Firefighting Section QLD 4225
457.4750 Queensland Fire and Rescue Service QLD 4215
458.1250 State Emergency Service QLD 4217
458.5250 Commissioner of Police QLD 4215
458.5500 Commissioner of Police QLD 4217
458.5750 Commissioner of Police QLD 4215
460.0000 Commissioner Queensland Ambulance Service QLD 4215
460.0000 Commissioner Queensland Ambulance Service QLD 4221
460.0250 Gold Coast City Council QLD 4221
460.1500 Regent Taxis Ltd QLD 4215
460.1500 Regent Taxis Ltd QLD 4220
461.8563 Gold Coast City Council QLD 4221
461.9000 Gold Coast City Council QLD 4220
462.4500 Kone Elevators Pty Ltd QLD 4217
463.0000 Queensland Television Ltd QLD 4217
463.2250 Baron Dinte QLD 4217
464.1250 Bond University Ltd QLD 4229
464.4250 Bond University Ltd QLD 4229
464.8500 Permanent Trustees Australia Ltd QLD 4216
465.7500 Aviation Rescue and Firefighting Section QLD 4225
466.9750 Queensland Fire and Rescue Service QLD 4215
467.6250 State Emergency Service QLD 4217
468.0250 Commissioner of Police QLD 4215
468.0500 Commissioner of Police QLD 4217
468.0750 Commissioner of Police QLD 4215
469.6000 American Golf Australia Pty Ltd QLD 4226
469.7500 Mirage Management Ltd QLD 4217
472.5750 Sandhurst Trustees Pty Ltd QLD 4217
473.4750 Jupiters Limited QLD 4218
473.5250 Jupiters Limited QLD 4218
473.7750 Jupiters Limited QLD 4218
474.0750 MID International Australia Pty Ltd QLD 4217
474.9500 Sea World Nara Resort Hotel Pty Ltd QLD 4217
475.1750 Royal Pines Resort Pty Ltd QLD 4217
477.7750 Sandhurst Trustees Pty Ltd QLD 4217
478.6750 Jupiters Limited QLD 4218
478.7250 Jupiters Limited QLD 4218
478.9750 Jupiters Limited QLD 4218
479.2750 MID International Australia Pty Ltd QLD 4217
480.1750 AMP Henderson Global Investors Limited QLD 4218
481.1500 Tweed Heads Coolangatta Taxi Service Pty Ltd QLD 4225
481.6250 Myer Stores Ltd Attention Mr Rob Brown QLD 4218
482.1000 Mirage Resorts Management Pty Ltd QLD 4217
482.2250 AMP Henderson Global Investors Limited QLD 4218
483.4500 Surf Lifesaving Queensland Inc QLD 4220
484.0250 Surf Lifesaving Queensland Inc QLD 4220
484.6500 Vertical Telecoms (Qld) Pty Ltd QLD 4217
484.9500 Surf Lifesaving Queensland Inc QLD 4217
484.9500 Surf Lifesaving Queensland Inc QLD 4220
484.9500 Surf Lifesaving Queensland Inc QLD 4224
484.9500 Surf Lifesaving Queensland Inc QLD 4220
484.9500 Surf Lifesaving Queensland Inc QLD 4218
484.9500 Surf Lifesaving Queensland Inc QLD 4218
484.9500 Surf Lifesaving Queensland Inc QLD 4218
484.9500 Surf Lifesaving Queensland Inc QLD 4218
484.9500 Surf Lifesaving Queensland Inc QLD 4217
484.9500 Surf Lifesaving Queensland Inc QLD 4220
484.9500 Surf Lifesaving Queensland Inc QLD 4217
484.9500 Surf Lifesaving Queensland Inc QLD 4220
484.9500 Surf Lifesaving Queensland Inc QLD 4221
484.9500 Surf Lifesaving Queensland Inc QLD 4223
484.9500 Surf Lifesaving Queensland Inc QLD 4225
484.9500 Surf Lifesaving Queensland Inc QLD 4225
484.9500 Surf Lifesaving Queensland Inc QLD 4225
484.9500 Surf Lifesaving Queensland Inc QLD 4225
484.9500 Surf Lifesaving Queensland Inc QLD 4225
484.9500 Surf Lifesaving Queensland Inc QLD 4221
484.9500 Surf Lifesaving Queensland Inc QLD 4221
485.0000 Surf Lifesaving Queensland Inc QLD 4220
485.0000 Surf Lifesaving Queensland Inc QLD 4220
485.0000 Surf Lifesaving Queensland Inc QLD 4218
485.0000 Surf Lifesaving Queensland Inc QLD 4218
485.0000 Surf Lifesaving Queensland Inc QLD 4218
485.0000 Surf Lifesaving Queensland Inc QLD 4220
485.0000 Surf Lifesaving Queensland Inc QLD 4217
485.0000 Surf Lifesaving Queensland Inc QLD 4225
485.0000 Surf Lifesaving Queensland Inc QLD 4217
485.0000 Surf Lifesaving Queensland Inc QLD 4218
485.0000 Surf Lifesaving Queensland Inc QLD 4221
485.0000 Surf Lifesaving Queensland Inc QLD 4221
485.0000 Surf Lifesaving Queensland Inc QLD 4221