It's all about the attention grabbing headline
Why should I read your content? Now stop and really think about that one. You know your content is great – it comes from years of experience and research – but how do you get your readers to actually consume your amazing content?
We live in an age of information overload. Studies have shown that if something doesn't hook us in under 3 seconds, we move onto the next best thing.
But my content is great!
The Answer is all in the headline
Attention grabbing headlines are nothing new – newspapers have been using them for years – now you can easily grab some ideas from a handy online tool called the "Title Generator"
Title Generator: 700 Headlines, Title's and Content Ideas
Use the titles generated to give you some great ideas for blogs, press releases, newsletters, Facebook posts and with your webpages – really enrich your on-page Google SEO – your readers will love and google will reward you for it.
The Title Generator will spit out over 700 different combinations of attention grabbing headlines that are based around a few keywords you supply.
For instance, when creating this article, I entered in the keyword "Title Generator" and this was my result for the first 9: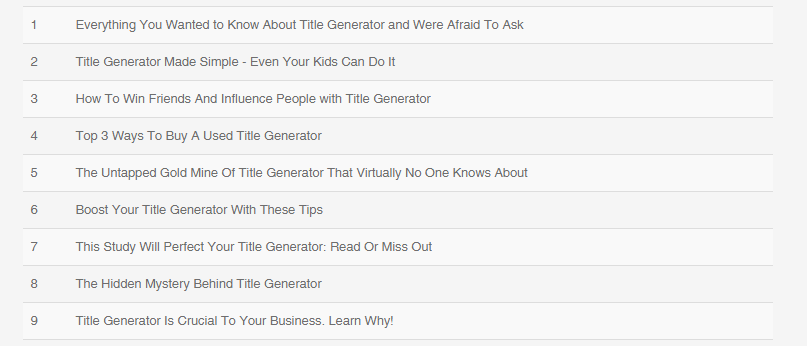 Keep scrolling down the page, and you will be presented with 700+ varients. The trick is to mix and match to your own style of writing. Use these titles as a guide to grab your audience's attention and to keep them reading your content.
Any comments, suggestions or insults – you know where to leave comments.